My Homemade Charts on the Bush Budgets
Chart 1: Clinton Recession/Bush Tax Cuts
So Spending Rates Increased During Bush's first term, but if you dig into the details
at the Gov't Website
, you'll see that if was largely defense and unemployment benefits
Chart 2: Domestic vs Defense as a share of the Total Federal Budget or Why Nixon Stinks as a Conservative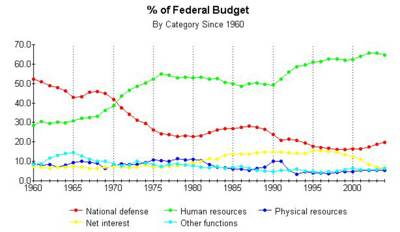 To be fair, Nixon inherited the costs of Johnson's Great Society, but isn't it staggering to see the rise of entitlement/social spending in the 1970-74 period as a % of the total federal budget.
You also have to admire Reagan. His budget record tracked his rhetoric: Social spending (as a % of total budget) actually declined during his tenure, while defense spending rose.
The Clinton Legacy? It clearly is one of inheriting a peace dividend to slash defense spending (declined as a % of total throughout his tenure) and accelerating social spending nearly as fast as Nixon. He lucked out with a great economy to pay for it all.
The first Bush Term? Similar to Reagan..Defense is growing as a % of total, while social spending is leveling off and falling after the increases due to unemployment to help folks who suffered from the Clinton Recession.
Chart 3: Not Great, but we've been here before:
I worry about the Deficit as a Share of the GDP. Bigger economies can handle bigger deficits in the same way that a $50,000 credit card bill would impact Bill Gates a whole lot less than it would bother me.
The US GDP has more than doubled since 1976.
But I'd like to see it move the other direction...that's what a good economy should do for us.